Whether you're looking to get started on fresh landscape design or a remodel that will make your home's exterior the perfect boost of curb appeal, you'll want to keep an eye on currently growing trends in landscaping. Just like runway style or interior design, landscaping trends are constantly evolving. Make sure your landscape reflects your personal style, stays on-trend, and makes a statement using current and stunning design elements. Here are just a few landscaping trends to look for in the upcoming year.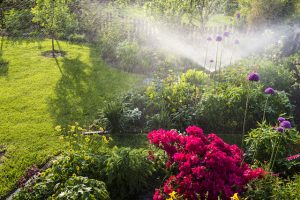 Automated Landscape Maintenance
From programmable, automatic irrigation systems, to robotic lawnmowers, there is a growing trend in automated maintenance for your landscape. Not only does automated landscape cut down on the time it takes to properly maintain your landscaping, but it can also help your landscaping professionals keep your landscaping healthy and beautiful for years to come. Automation is also a great way to extend your favorite elements of your smart home out into your landscaping.
Pops of Pink
Pink is the color of 2019 when it comes to landscaping. Living Coral is Pantone's color of the year, so you can expect to see it on runways, in interior design trends, and across floral landscaping designs. Bright blooms of pink across your garden spaces can add style and interest to your lawn. Look out for pretty shades of pink throughout landscaping design in the next year.
Multi-Functional Design
In 2019, forget choosing between function and style in your landscaping. Two-in-one design is a growing trend in landscaping. Find the function in your design elements, like a vertical trellis that grows edible plants. This will add beauty to your garden while offering added privacy and fruits, vegetables, or herbs. Try built-in seating with your hardscaping that allows you to enjoy and style the most functional elements of your landscaping.
Metal Accents
Bold metal elements can add vintage or modern touches to your landscape designs. Try metallic accents like bronze fixtures in your fountain or a metal table on your patio to keep your landscaping on-trend and enjoy a stylish outdoor space. Decorative metal art and patio accessories can add charm to your outdoor oasis, and you can expect to see plenty of this trend in 2019.
GET MORE LANDSCAPE HELP FROM HONEYSUCKLE NURSERY AND DESIGN
At Honeysuckle Nursery and Design, you will get construction and maintenance crews on site who have a minimum of 10 years of experience in all types of landscaping. Our designers will work closely with you to understandhow you want to use your space so that we can make the most of your entiresite. We are committed to providing complete customer satisfaction and willwork with you along every step of the way to be sure that you are happy withyour landscape design.
Ready to start planning your new professional landscape design? Give us a call at410-849-5119 or send us an email to schedule your free no-obligation estimate today! Don't forget to follow us on Facebook, Twitter, Google+, Houzz,and Youtube!