It may be winter right now, but spring and summer are on the horizon. During these warmer months, you'll want to spend all the time you can outside. A new stone patio can help you do that. Building one now means it will be ready in time for the end of the winter here in Maryland. Let's find out more!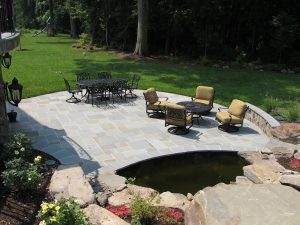 They're Easy to Maintain
One of the best things about a stone patio is that it doesn't need much maintenance. You won't need to patch it up or add some newadhesive. There's little need for paint, and you won't have to worry about moldor mildew. All you need to do is sweep the patio off with a broom.
They're Environmentally Friendly
Stone patios are also environmentally friendly. While concrete is another common building material used to build patios, it is an artificial substance. That means it takes time and money to create it, and it leaves behind a carbon footprint on the environment. Stones don't, and preparing the stones to be made into a patio is relatively inexpensive. You can add more natural beauty to the area and your home, and best of all, the stones will last.
They're Durable
Stone is durable enough to resist the passage of time andthe effects of winter storms. It can be broken, but the stones can last long enough to be recycledinto another building project.
They're Weather Resistant
Stone is also weather resistant. It won't heat up to uncomfortable levels, especially if there is no metal mounted on the stone patio. Rain and ice will also affect the stone, but it won't be as dangerous and slippery as you might think.
They Boost Home Value
Finally, stone patios help boost your home's value. If you are looking to sell your home in the next few years, then adding a stone patio could help convince potential homebuyers to choose your house.
GET MORE LANDSCAPE HELP FROM HONEYSUCKLE NURSERY AND DESIGN
At Honeysuckle Nursery and Design, you will get construction and maintenance crews on site who have a minimum of 10 years of experience in alltypes of landscaping. Our designers will work closely with you to understandhow you want to use your space so that we can make the most of your entiresite. We are committed to providing complete customer satisfaction and willwork with you along every step of the way to be sure that you are happy withyour landscape design.
Readyto start planning your new professional landscape design? Give us a call at410-849-5119 or send us an email to schedule your free no-obligation estimate today! Don't forget to follow us on Facebook, Twitter, Google+, Houzz,and Youtube!