Putting your stamp on your property is about creating a design that reflects your personal style, an atmosphere you want to create, and the perfect element that allows you to entertain your guests. By installing a fire feature, you can create a warm and inviting atmosphere in your space that will be the perfect conversation starter. Follow this guide for designing the perfect fire feature.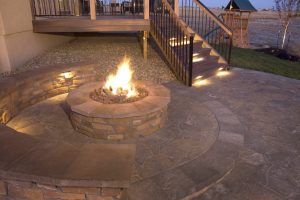 Fire Pit or Fireplace
The first design choice that you'll have to make is whether you'd like to install a fire pit or fireplace. Fire pits are accessible from all sides while fireplaces are just accessible from the front. Take note of your space and how you want your family and guests to interact with the fire feature. With a pit you can create an experience reminiscent of a campfire, and you may even be able to do some cooking and grilling. Fireplaces work better in smaller settings and if you want to create a focal point in your space.
Modular or Mortared Design
Modular designs come in square, rectangular, or even hexagonal shapes. They are cost-effective and relatively simple to install. Mortared designs typically use natural stone and create a more elegant and sophisticated appearance. With both you can create a completely customizable look, so use your budget and personal style as a way to help make the choice between the two.
Gas Burning or Wood Burning
If you want your design to veer more toward a traditional atmosphere, then wood burning will likely be the choice for you. The crackling, smoky smell and rustic environment will all add to your experience. On the other hand, gas burning fire features are tidy, more convenient, and lower maintenance. They obviously don't require any wood and won't produce any ash, smoke, or soot.
GET MORE LANDSCAPE HELP FROM HONEYSUCKLE NURSERY AND DESIGN
At Honeysuckle Nursery and Design, you will get construction and maintenance crews on site who have a minimum of 10 years of experience in all types of landscaping. Our designers will work closely with you to understand how you want to use your space so that we can make the most of your entire site. We are committed to providing complete customer satisfaction and will work with you along every step of the way to be sure that you are happy with your landscape design.
Ready to start planning your new professional landscape design? Give us a call at 410-849-5119 or send us an email to schedule your free no-obligation estimate today! Don't forget to follow us on Facebook, Twitter, Google+, Houzz,and Youtube!