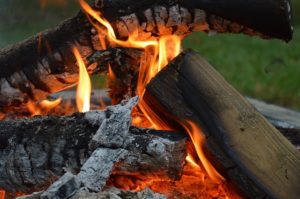 In the spring, summer, and fall, sitting by your outdoor fireplace can be a great way to pass the time. After all, who doesn't enjoy the smell of burning firewood and roasting hot dogs? Still, it can be hard to enjoy your time outside in the winter. That's why you need fire features.
Fire Pits and Fireplaces
The first decision you need to make is whether you want a new fire pit or an actual fireplace. Both have huge advantages, and both of them require you to be careful when operating them. Upgrade your outdoor kitchen with a fire pit. Doing this can make your backyard the place to be, even if you don't have an enclosed back deck, so choose the shapes and sizes that you want. You can also watch the snow fall from your yard while enjoying the glow and warmth of a fire. Ultimately, the choice is yours. Here are few things you'll need to think about, though:
How big your patio or deck is,
How close it is to doors and windows and other common areas,
How it will look,
And what you plan on doing with it.
Fuel Source
Once you have decided to have a fire pit or fireplace keeping you warm this winter, you need to consider the fuel source it uses. Using firewood seems like the easiest idea, but you'll probably need to consult your homeowners association, or HOA, before you do anything. After all, you don't want to create an accidental fire hazard! Make sure the fire can't get out of control and that you clean up after yourself once you're done with it to prevent a blaze.
You can also choose gas or propane to fuel your fires. It all depends on what you can do in your neighborhood, and what you can afford.
ALL OF YOUR LAWN CARE NEEDS FROM HONEYSUCKLE NURSERY AND DESIGN
At Honeysuckle Nursery and Design, you will get construction and maintenance crews on site who have a minimum of 10 years of experience in all types of landscaping. Our designers will work closely with you to understand how you want to use your space so that we can make the most of your entire site. We are committed to providing complete customer satisfaction and will work with you along every step of the way to be sure that you are happy with your landscape design.
Ready to start planning your new professional landscape design? Give us a call at 410-849-5119 or send us an email to schedule your free, no-obligation estimate today!
Don't forget to follow us on Facebook, Twitter, Houzz, and YouTube.