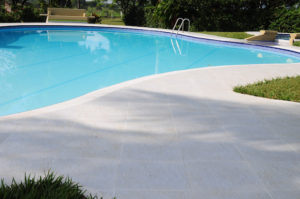 Building a swimming pool isn't as simple as you might think it is. When you decide that you would like to add a swimming pool, then it's time to get in touch with the experts at Honeysuckle Nursery & Design. At Honeysuckle, we handle every part of the pool building process which includes providing a comprehensive pool design to make sure the pool is placed in the perfect spot to maximize the space and ensuring a smooth pool installation process. From pulling permits to customizing your pool with exciting features including waterfalls, waterslides, sheer descents and much more, let the pros at Honeysuckle bring your vision to life!
Ask for Licensing and Insurance
Make sure the contractor is licensed and insured. Building a brand new swimming pool is going to be an involved process, one that will take plenty of work. In some cases, the project will take muchlonger to complete than you originally expected. The pool will need an openingin your yard, and the insurance is essential in case anything should go wrongduring the process. It also serves as liability coverage in case there isdamage done to your house. Before you move onto your next set of questions,inquire about how long the company has been in business.
Get Estimates and References
Once you're satisfied with the answers that you've received to your previous questions, it's time to start choosing a contractor for your swimming. After you do, get estimates and references. The estimates will give you an idea of how much you will need to pay and when the pool will be ready for you and your family to start enjoying. Be polite and emphasize that you would like all written agreements to be included in a signed contract.
Ask for a Warranty
You should also ask for a warranty on the swimming pool. The warranty will cover any unexpected problems that could pop up as the pool ages. Some examples include if the pool begins to leak, if there are problems with the patio that supports the pool, and if the pool needs to be closed for repairs.
GET A BRAND NEW CUSTOM SWIMMING POOL FROM HONEYSUCKLE NURSERY AND DESIGN!
With Honeysuckle Nursery and Design, we manage every aspect of a pool project including pulling permits to customizing your pool with various features such as waterslides, waterfalls, sheer descents and more. Our pool designers will work closely with you to understand how you want to use your space so that we can make the most of your entire site. Whether you are looking for a luxurious heated in-ground pool or a small plunge pool or a lap or infinity pool, we will bring your vision to life! Whether you live in Anne Arundel or Howard Counties, we can help you experience your dream space in Annapolis, Davidsonville, Millersville, Ellicott City, Clarksville, Columbia, and surrounding areas. We specialize in landscape design & Maintenance, Swimming Pools, Hardscape, and Natural Stone, WaterFeatures, Outdoor Living Spaces and more! Dream, Create, Experience withHoneysuckle Nursery & Design by calling 410-849-5119 or email us to schedule your free no-obligation estimate today. Don't forget to follow us on Facebook, Twitter,Houzz, andYoutube!