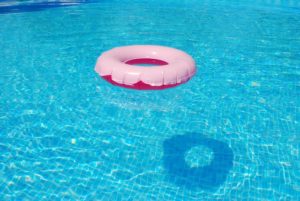 Spring is finally warming us up here in Maryland, and summer will be here before we know it. It is around this time of year when pool owners begin the yearly debate: when is the right time to open up the swimming pool for the season?Depending on where you live, the type of pool you own, and your personal temperature preferences, this answer can vary quite a bit. In general, we find that the pool opening process should begin once the average daily temperature reaches 70 to 73 degrees Fahrenheit.
Prevent Algae Growth
 Mother Nature can have quite an effect on your pool.Outdoor temperatures tend to fluctuate considerably in our region this time of year. Once temperatures are around 70 consistently, algae can start to grow in the pool whether it is open or not. When left unchecked,algae can quickly grow out of hand and be a pain to clean out. By opening your pool a little earlier, you can easily see algae growth and keep it under control easily. Plus, on those random super-warm days that we sometimes get before summer, you'll be able to jump in for a quick swim to cool off!
Manage Pool-Related Expenses
Most pool owners are reluctant to open their pools earlier in the season because they don't want to incur the expense. Actually, with modern, updated pool technology, you can keep pool-related costs much lower.Talk to the expert pool designers at Honeysuckle Nursery and Design today to see how you can update your pool this spring!
PROFESSIONAL LANDSCAPE DESIGN FROM HONEYSUCKLE NURSERY AND DESIGN
The true beauty of your pool often has more to do with the area around it then simply just the pool. By opening early you'll have more time to enjoy the beauty and tranquility of your own backyard.When it comes to creating a beautiful pool and landscape, the experienced team at Honeysuckle Nursery has you covered.
Spring is around the corner! Whether you live in Anne Arundel or Howard Counties, we can help you bring out the best of your pool in Annapolis, Davidsonville, Millersville, Ellicott City, Clarksville, Columbia, and surrounding areas. We specialize in Landscape Design & Maintenance, Swimming Pools, Hardscape, and Natural Stone, Water Features, Outdoor Living Spaces and more! Dream, Create, Experience with Honeysuckle Nursery & Design by calling 410-849-5119 or email us to schedule your free no-obligation estimate today. Don't forget to follow us on Facebook, Twitter, Houzz, and Youtube!