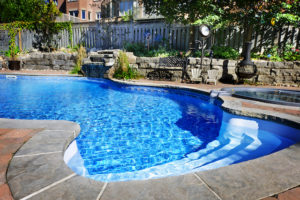 It doesn't feel like it yet, but spring is almost here. In less than two weeks, it'll be March. Time is flying, and that means winter is almost over! Although the height of swimming pool season won't be until the summer, during the spring, you'll have time to start getting it set up. Here's how you can get your swimming pool ready for spring.
Clean the Pool Cover
The first thing you will want to do is to clean off the pool cover. A pump can get rid of any standing water that is left from the last snowstorm, especially after the snow has melted. You can also use a brush to remove any dirt or fallen leaves that are still on the cover but don't use anything sharp to scrape the debris off, or you could put a hole in your pool cover.
Take Away the Plugs
Now you will want to move the plugs in your swimming pool. The plugs are designed to keep the water jets safe and undamaged during the cold season so that once you start using the pool again, the water jets won't be blocked up. Once that's done, put the pool ladder back into place. After that, be sure to reinstall the diving board and reattach the rails on the side of the pool. That way, you can be even more confident that the pool is safer for everyone to use.
Refill It
Now your swimming pool is almost ready to go. Once there is enough water in the pool, you need to get it moving. To do this, you need to start up the pump system and make sure the chlorine and other chemicals are at the correct levels before you allow anyone to jump inside for a swim.
GET A BRAND NEW CUSTOM SWIMMING POOL FROM HONEYSUCKLE NURSERY AND DESIGN!
With Honeysuckle Nursery and Design, we manage every aspect of a pool project including pulling permits to customizing your pool with various features such as waterslides, waterfalls, sheer descents and more. Our pool designers will work closely with you to understand how you want to use your space so that we can make the most of your entire site. Whether you are looking for a luxurious heated in-ground pool or a small plunge pool or alap or infinity pool, we will bring your vision to life!
Whether you live in Anne Arundel or Howard Counties, we can help you experience your dream space in Annapolis, Davidsonville, Millersville, Ellicott City, Clarksville, Columbia, and surrounding areas. We specialize in Landscape Design & Maintenance, Swimming Pools, Hardscape, and Natural Stone, Water Features, Outdoor LivingSpaces and more! Dream, Create, Experience with Honeysuckle Nursery &Design by calling 410-849-5119 or email us to schedule your free no-obligation estimate today. Don't forget to follow us on Facebook, Twitter, Google+, Houzz, and Youtube!