Winter brings more than just a wonderland of colorful lights and cheerful songs. It also means that there is bound to be ice and snow in the forecast. Although pretty to look at, these weather conditions can mean bad news for your business. Here are some reasons to consider snow removal for your business.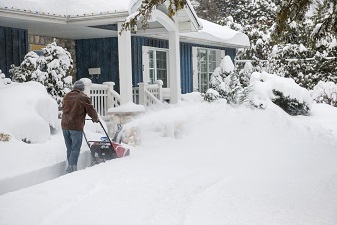 Quick Response
When you're stuck at home because you're snowed in and no plows have come, you know how frustrating that can be. Plus, your business will suffer if no one can reach it or navigate the grounds safely. When you hire a snow removal service for your business, you can expect a quick response and some prompt service. Getting ahead of the next winter storm is an essential part of making sure you're ready to stay open and meet all of your customers' needs.
Decreased Liability Issues
During the busy holiday shopping season, your visitors might not be as attentive to where they're going. That's why your business needs to increase its liability insurance and protection against any possible issues – namely from customers injured in slips and falls. If you haven't used a snow removal service before, then this is the year to do it. After all, keeping all of your walkways, hardscapes, stairs, and railings clear of ice and snow will go a long way towards helping you keep everyone safe!
Better Business
Finally, consider the positive impacts hiring a snow removalservice will have on your business. While all of your competitors are closed, you'll be open. That way,you'll bring in more customers that you otherwise wouldn't have. Keeping yourparking lot clear and safe to travel through is just as important as managingyour landscape and hardscape features to make them more attractive with carefulsnow placement. Curb appeal is just as important for businesses as it is forprivate homes. That's why you should consider a snow removal service.
ALL OF YOUR SNOW REMOVAL NEEDS FROM HONEYSUCKLE NURSERY AND DESIGN
At Honeysuckle Nursery and Design, you will get construction and maintenance crews on site who have a minimum of 10 years of experience in all types of landscaping. Our designers will work closely with you to understand how you want to use your space so that we can make the most of your entire site. We are committed to providing complete customer satisfaction and will work with you along every step of the way to be sure that you are happy with your landscape design.
Readyto start planning your new professional landscape design? Give us a call at 410-849-5119 or send us an email to schedule your free, no-obligation estimate today!
Don't forget to follow us on Facebook, Twitter, Houzz,and YouTube.