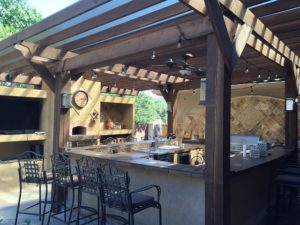 One of the ways to get more out of your outdoor living space is to build an outdoor kitchen. Even if you already have a beautiful kitchen inside your home, by getting an outdoor kitchen you increase the versatility of your home. Besides, grilling season is almost here. Here are some of the ways you can get the best outdoor kitchen before spring and summer return.
Decide What You Need
First off, you've got to decide what you need in your outdoor kitchen. Are you planning on having many backyard barbecues this spring? If so, this will guide the types of appliances and furniture that you'll use to fill out your new space. Think about what you plan on cooking, and how many people you will need to cook for.What will you do in case of rain? That's another important factor and could determine whether you have an open-air outdoor kitchen or have a closed-in patio instead.
Find Designs
Next, you'll need to find the design that you want for your outdoor kitchen. You can find inspiration from a wide variety of sources – watching relevant shows on television, doing Internet research, and speaking to friends and neighbors who have an outdoor kitchen themselves. Once you know what you want, it's time to find out whether you can it a dream come true or not. For many homeowners, that means considering the amount of available space that you have to work with.
Think About Space
Now that you've found the design for you, consider the configuration and whether or not it's the best use of the space you have. You might have to get rid of some objects that are there and put new ones in their place.
Choose Appliances
Grills, ovens, refrigerators, and coolers are some of the appliances you can choose from when outfitting your outdoor kitchen.Which one is right for you? That's a question that contractors can help you answer. Plus, keeping it as simple as possible is for the best.
Work with Contractors
Lastly, work with contractors you can trust, such as the experts here at Honeysuckle Nursery and Design!
GET A BRAND NEW OUTDOOR KITCHEN FROM HONEYSUCKLE NURSERY AND DESIGN!
With Honeysuckle Nursery and Design, you will get construction and maintenance crews on site who have a minimum of 10 years of experience in all types of landscaping. Our designers will work closely with you to understand how you want to use your space so that we can make the most of your entire site. We are committed to providing complete customer satisfaction and will work with you on every step of the way to be sure that you are happy with your landscape design.
Whether you live in Anne Arundel or Howard Counties, we can help you experience your dream space in Annapolis, Davidsonville,  Millersville, Ellicott City, Clarksville, Columbia, and surrounding areas. We specialize in Landscape Design & Maintenance, Swimming Pools, Hardscape and Natural Stone, Water Features, Outdoor Living Spaces and more! Dream, Create, Experience with Honeysuckle Nursery & Design by calling 410-849-5119 or email us to schedule your free no-obligation estimate today. Don't forget to follow us on Facebook, Twitter, Google+, Houzz, and Youtube!