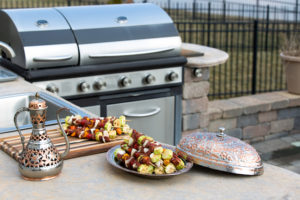 Spring and summer in Maryland are great for spending lots of time outdoors with friends and family. While a deck or patio makes a great outdoor entertainment space, an outdoor kitchen can take your gathering to the next level by giving you food and drink preparation spaces outside. There are many options when it comes to designing your outdoor kitchen and it can be customized in endless ways– the only limit is your imagination.  We'll work closely with you and incorporate your ideas and feedback so that you are completely satisfied with the design and installation of your new outdoor kitchen. We also handle all permits and coordinate plumbers, electricians, appliance sources, stone sources and more.
The Grill
The grill can be built into the counters of the kitchen so that it blends seamlessly with the design. The professionals at Honeysuckle Nursery and Design will discuss the various options for grills that will seamlessly fit into the designed space to making outdoor cooking a breeze.
Counters
Another essential element of an outdoor kitchen is the counters. We custom design every island in the shape and size that fits your backyard, entertainment goals and budget. Some of the countertop selections are granite, natural stone, brick, manufactured concrete and more.
Outdoor Lighting
It is very important that outdoor lighting be carefully planned, designed and installed to best illuminate your outdoor kitchen so that all features can be utilized but yet have the outdoor lighting be as unobtrusive as possible when desired. Honeysuckle will work closely with you to determine illumination choices and areas for illumination that will extend the usability of your outdoor kitchen and your yard, giving you the opportunity to spend more time enjoying your backyard paradise.
Refrigerator
Don't make yourself run in and out of the house to grab veggie sand other items that need to be stored cold! Having a refrigerator built into your outdoor kitchen setup will give you added flexibility to store everything you may need within arm's length. Compact refrigerators come in a variety of finishes like stainless steel and black and range in size to fit conveniently under the countertop.
Fire Features
Great fire features like fireplaces and fire pits can help extend your gatherings into the evening hours. Your guests can relax in comfortable chairs and couches and relax as the fire glows!
A New Outdoor Kitchen from Honeysuckle Nursery and Design
At Honeysuckle Nursery and Design, you will get design and installation crews on site who have a minimum of 10 years of experience in all types of landscaping and landscaping features.  Our designers will work closely with you to understand how you want to use your space so that we can make the most of your entire site. We are committed to providing complete customer satisfaction and will work with you along every step of the way to be sure that you are happy with your outdoor kitchen.
Whether you live in Anne Arundel or Howard Counties, we can help you experience your dream space in Annapolis, Davidsonville, Millersville, Ellicott City, Clarksville, Columbia, and surrounding areas. We specialize in Landscape Design & Maintenance, Swimming Pools, Hardscape, and Natural Stone, Water Features, Outdoor Living Spaces and more! Dream, Create, Experience with Honeysuckle Nursery & Design by calling 410-849-5119 or email us to schedule your free no-obligation estimate today. Don't forget to follow us on Facebook, Twitter, Houzz, and YouTube!