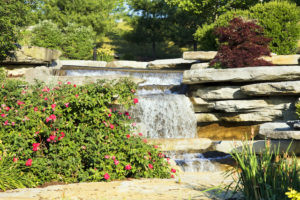 A pond is an extremely versatile landscape design element for your residential or commercial property. Your pond can be virtually any shape or size to fit wherever you would like it to go. There are also a number of different features you can add to a pond to customize it even further. Here are just a few.
Fountains and Waterfalls
Fountains and waterfalls tend to be everyone's first choices for their pond design. They are beautiful to look at, yes, but fountains and waterfalls also help to aerate the water in the pond and keep it moving. The moving and splashing water is also relaxing to listen to, like having an oasis right on your property.
Plants
You can also add plants in and around your pond. Certain grasses, vines, and flowers are extremely well-suited to pond life and can be very low maintenance. Pond owners tend to gravitate towards water lilies most of all. They are gorgeous flowers, and the lily pads shade and protect the fish. They also block sunlight which can help to slow algae growth.
Lighting
When you add lighting to your pond, you can enjoy it at all hours of the day and night. A light behind a waterfall or inside of a fountain creates an exciting visual. If you have fish, you can watch them swimming around even when it's dark out. Not only will lighting make your pond visually stunning, it will make it safer as well. When it's dark outside, the lighting will illuminate the water so that people know not to walk in that area.
Fish
Last, but definitely not least, is everyone's favorite pond feature: the fish! There are hundreds of different varieties of fish that can live in your pond. Your local aquatic store will be able to provide you with information on what fish do well in the environmental conditions of your area.
PONDS AND WATER FEATURES FROM HONEYSUCKLE NURSERY AND DESIGN
At Honeysuckle Nursery and Design, you will get construction and maintenance crews on site who have a minimum of 10 years of experience in all types of landscaping hardscaping. Our designers will work closely with you to understand how you want to use your space so that we can make the most of your entire site. We are committed to providing complete customer satisfaction and will work with you along every step of the way to be sure that you are happy with your new pond.
Whether you live in Anne Arundel or Howard Counties, we can help you experience your dream space in Annapolis, Davidsonville, Millersville, Ellicott City, Clarksville, Columbia, and surrounding areas. We specialize in Landscape Design & Maintenance, Swimming Pools, Hardscape, and Natural Stone, Water Features, Outdoor Living Spaces and more! Dream, Create, Experience withHoneysuckle Nursery & Design by calling 410-849-5119 or email us to schedule your free no-obligation estimate today. Don forget to follow us on Facebook, Twitter, Houzz, and YouTube!